Community and Vocational Committee
This very active group is responsible for addressing the needs of both the local community and supporting UK charities throughout the country.
Its primary objectives are to give active support to the elderly, homeless and deprived people in our local community through either direct assistance or indirectly through donations to charities involved in this work.
The committee also organises vocational visits for club members and their guests.
Among the many events we organise are:-
Seniors Day Out
A group of seniors are picked up at their homes by Rotarians in their cars and taken out for the day to some place of interest. They are then taken to a pub or restaurant for lunch prior to being returned home, tired but happy, after an extremely sociable day out.
A number of our guests also enjoy a weekly lunch and social at Christchurch where we collect them to return to their homes afterwards.
Christmas Carol Concert
Local seniors are taken to Clifton College for a wonderful concert featuring the school orchestra and choir which includes a very popular sing-song of carols and old favourites.
The high quality of the student's performance and the enthusiasm they clearly have for entertaining their aged audience will leave an indelible memory in those who enjoyed it so much.
Mince pies and a hot drink are the final treat for our guests before we return them to their homes.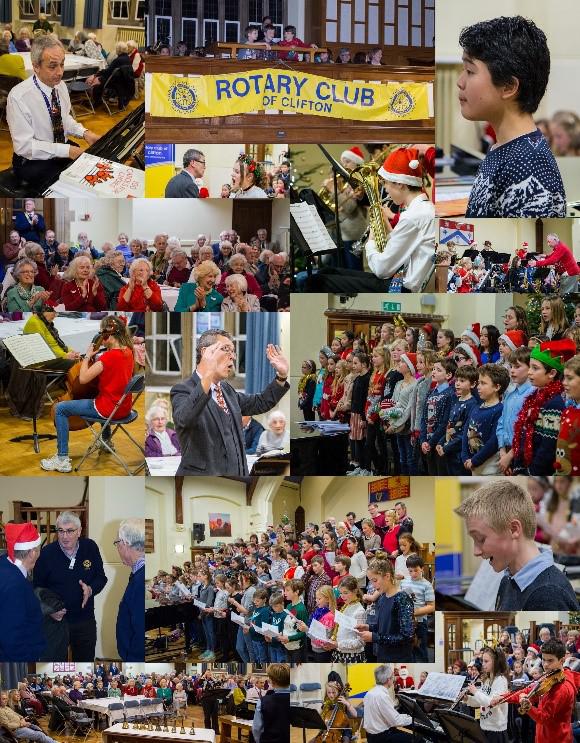 Homeless People
We support homeless people through donations to local hostels and have an annual clothing collection on behalf of the Salvation Army.
---
The following is a list of projects that the committee has organised or supported during the last few years.
Projects include:
Christmas Carol Concert
Community Vocation Awards
Swimarathon
Stroke Awareness (Know your blood pressure)
Seniors Out
Salvation Army clothing collection
Christ Church lifts
Used computer collections
Julian Trust – Christmas raffle
Vocational visits (e.g. Downs nature walk, Avonmouth docks, Bristol Blue Glass, Life skills Centre, Bristol Airport)
Donations include:
Link Age, Bristol
Cerebral Palsy Plus
Have Stick Will Travel
Emmaus, Bristol
British Association for Cricketers with Disabilities
Caring at Christmas, Bristol
Jessie May Trust
Great Western Air Ambulance
Crisis Centre Ministries
Smiling Eyes
Julian Trust
Life Skills
Changing Tunes
The Rainbow Centre
Life Education Centre
Avon Riding for the Disabled